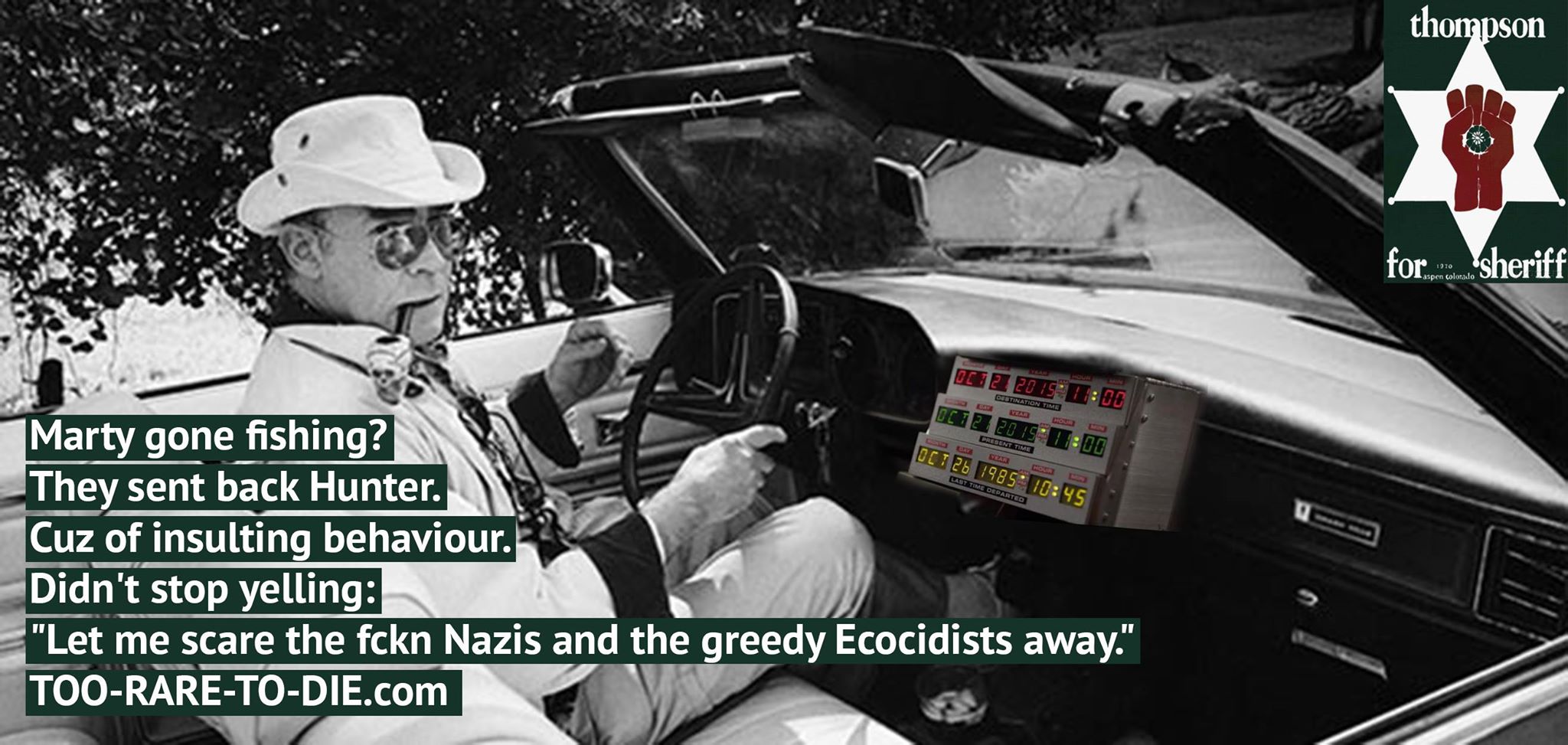 Another delay. First editor in hospital somewhere eastern Europe. Quote: " Close to the edge!" JeeezUS! Is this fckin it all up again? This wingman is FCKN TOO RARE TO DIE! Yes - I am cryin. And puking. ' be back. Aight. That helped a little! God plz dont make this a secretly stupid service attack. More frequent updates here!
"Secret Destination", 28th December 2016 "Dear rookies and professionals. Yes it is Hunter. Believe it or get lost. Aint got no time to waste. If Trump can be elected - so next time we can be wiser and elect the Bern or a green president. Be it. So I had to visit him. Get back to the USA one more time. I got 3 hours more than this rapper guy, he hugged - NOT. HE WANTED TO HEAR THE WHOLE STORY! He ofcourse was at my funeral - he claimed. I didnt conciously see him there. But he is so horny to be mentioned in a positive way in THIS book - he promised to believe what I urged him to order all the topmanagers he now hired. On my knees, while offering a Lewinsky - if this gets book gets released. And Johnny offers to do it again. While he, Trump himself can play himself. IN A FCKN SUPERMAN costume - saving the planet. And a series in the following: "FORWARD INTO THE FUTURE! Biff, Marty, Doc Brown and what was her name united". Savin the future. Only Biff is allowed to drive the Delorean. And they implemented a Mr. Coffee unit innit. Soundsystem by Ali G. The one black guy Trump restecps. Too far off topic. Obama still 20 days president. Operator! This story needs a faxmachine! Wired directly. Get the Christmas decoration of the black Santa's white house connected to it. One thing I had enough time to study here is the austrian quote for the phenomenon or call it ritus - as they would say it: "It takes longer - and it comes different." Been on the campaign trail with Austria's re-relected President Alexander van der Bellen. His opponent the rightwing guy, head of the Angstmenschen branch proclaimed yelling: "You will be wondering - what the heck happened!" Or similiar - just couldn't listen. So to make it a wonder they elected a green President. First state of the EU! Or worldwide? Maybe? POSSIBLE! The whole world is now wondering - and happy there's peace again where Hitler was born. Mordor is not between these alps, where also Mozart, Freud, Klimt, Manner, Schwarzenegger,... where born. Needed to analyze ALL OF this. Yes and there is also the Trump. First one - former speaker of the Austrian Green Party -, supported in the first round primarily by the greens. They motivated the rest - and stopped the "rise of the rightwing in Europe". Back to essential topics. Like: fuck Fuck! We are fed up demonstrating and signing petitions! So now www.everydayrebellion.net Details in the book. First chapter to be released to the press at dawn of the fifth day of the NEW year. As a statement. If an elephant can get elected president in the USA - cuz of cheap swinebehaviour of others - INSTEAD OF SUPPORTING THE PEACEFUL WISE OLD DOC BERNIE BROWN - returned from the future like predicted, then Hunter must stand up. And talk out loud and ruff. YOU FUCKIN BLIND FOOLS! They sent back Doc Sanders. And chose me as a driver. Whom else?! No one can ride ANY machine like I do. All the other details soon her, bitches and Dudes, ladies, knights, dottores, the stalkers and the secret servicepeepz. Njoy the ride. We do it for the sake of journalism. And the H.S.T.-Foundation. Your country needs YOU - stayawake and support this mission. Hunter still riding. You happy now? Planning to take you on a great one. All in. Go back into the house, plan yourpersonal positive everyday rebellion, chill them Fiddlers, the cavalary is on it's way. Haters fuck off. Others, the MUTmenschen (brave human beeing, or Bravehuman) stay prepared for the crowd funding. Anything will be handled correct and official. Just give us some more days. Just a short timeout over NYeve. If you watch the stars, night when the year switches and in our perception anything positive can be happening. Because it is a new year. Imaginary power can move mountains. Details in the book. One year late. I just had to witness either the rise of the desinformed a.k.a. Nazis, or will love for the planet and "Wir gemeinsam" be the stonger power. With VdB representing the peoples will and readyness to a positive change where everybody is a winner, talking to Trump directly made sense again. Otherwise this book project would have been stopped and a bottle of anything opened, cheering to the Anthropocene. Whatever you didnt understand - the answers are in the Matrix behind your display. Or will be within the next weeks. Smartuse! Preorder the book. Receive the first chapter. Buy and receive the book. Details here until 05.01.2017 Typed on a lausy smartphone. Mistakes in text are fault of autocorrect or part of the font plus under pressure to get out.
Mahalo. "
Hunters hymn 2016 - by Tomcraft. Love this guy.
Been waiting for the discussion with Pres. Obama. Syria, planet Earth and the future of our kids on it. Now homerun to release. Editors editing. Stay tuned and pray to god their nerves persist the tension. Raw cut.
If I had known of Russel's project earlier - I might have assistet him. Instead of writing mine. Supported him to make this more hunteresque©. Still it's hunterstyle. As if I had written it on strongest Kush. Five days- no sleep. Took him a year and an army of supporters. Still: strong buy. Cuz easier to understand than what is "me". And waiting for you.

Buy at a BOOKSTORE near you - or close to your way to your job or whtsvr. English German Why german? Because it is their duty exploring new ways. Also to avoid fashism. So long
Release delayed! Cuz of Hunter's negotiations with Putin about Syria and coolness, we have to delay the release. The new release-date will be out soon. Come again and stay tuned!
Landed in 2015 - instead of Marty. To do my part in a plan to save the fckn world we love and live in. Through a new superbrilliant Gonzo product. Date of publication: 21.12.2015 We need to massively reduce our consumption of natural resources, lest nature decides to reduce us instead. Life should not be a journey to the grave with the intention of arriving safely in a pretty and well preserved body, but rather to skid in broadside in a cloud of smoke, thoroughly used up, totally worn out - with all tasks the universe has assigned to you successfully completed - and loudly proclaiming ''Wow! What a Ride'' Hunter S. Thompson - free since 2002, not dead since 2005 - Stay tuned fellas - updates to come. Buy the book, take the ride. Mahalo.
Say what you want us to know! you-are@too-rare-to-die.com